HOME | ABOUT SHERRI MILLS | THE EXPERIENCE OF TOUCH | SERVICES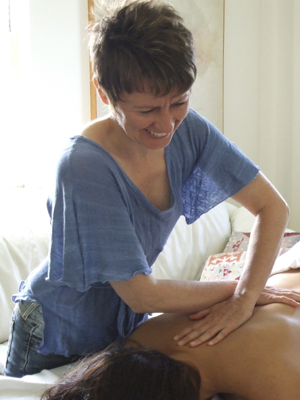 HOW DID SHERRI BECOME AN EXPERT?
Sherri graduated from Case Western Reserve University with a master's degree in Modern Dance, specializing in Somatics and Kinesiology. This laid a foundation for a deep understanding of movement, and problems with movement.
She has performed as a dancer for 28 years, dancing for The Cleveland State University Dance Company and The Antaeus Dance Company. During this period she earned the degree of Master of Massage Therapy from Ohio College of Limited Medical Practice. She has practiced massage with a unique concentration for 15 years in both medical and private settings.
In addition Sherri has studied Myofascial Release (MFR) with John Barnes. She is now an assistant instructor for his teaching center. Sherri now has 12 years of experience with this system of relieving pain and improving physical and emotional functioning.
Although committed to the well being of her clients all these years, she has also been a guest instructor at Case Western Reserve University and Allegheny College, teaching both Anatomy for Dancers and Massage for Dancers. She has had years of integrating her rich experience with the human body. This is no mere massage therapist. Her remarkable skills are available to you.
WHAT DOES SHERRI OFFER YOU?
1. Excellent massage!
2. Myofascial Release in order to:
a. Relieve pain, often chronic pain.
b. Improve range of motion and physical alignment.
c. Encourage emotional release, which often is the cause of physical problems.
d. Improve appearance, which results as the body is eased and pain is relieved.
WHAT IS AN APPOINTMENT WITH SHERRI LIKE?
1. Sherri does an assessment to understand what you need.
2. You tell her what you hope for, or where it hurts.
3. She shares her conclusions with you, and the session begins.
4. Sessions last one and a half hours.
5. From session to session, Sherri pays attention to the continuity of improvement of your body.
6. If you wish to work at improving your physical process, Sherri offers you training to help improve your posture or ease of movement.
HOW MUCH WILL THIS COST?
A one and a half hour appointment for myofascial massage will cost $125.00.
HOME | ABOUT SHERRI MILLS | THE EXPERIENCE OF TOUCH | SERVICES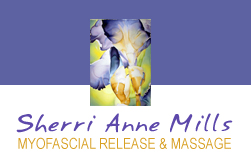 sherri@sherriannemills.com
216.272.8695
31 Bridge Street, No.210
Berea, OH 44017
(near Hopkins Airport)