HOME | ABOUT SHERRI MILLS | THE EXPERIENCE OF TOUCH | SERVICES

MASSAGE THERAPY
After Sherri listens to your concerns and assesses your body alignment (posture), she gives a thorough massage that will leave you feeling like a new person.
MYOFASCIAL RELEASE PLUS MASSAGE THERAPY
Again Sherri begins by discussing your concerns and assessing your body alignment. Then she proceeds to do Myofascial Release Therapy. Afterwards, the session is completed with Massage Therapy. The outcome is not only feeling renewed, but , having had a therapeutic release that is an exciting improvement.
MYOFASCIAL RELEASE THERAPY
This begins with a careful consultation between you and Sherri, followed by her detailed observation of how you use and hold your body. Using the methods of Myofascial Release she works deeply, but gently into your fascial system, unlocking physical restrictions that may be causing you long term pain or loss of free movement. Sherri uses her highly skilled sensory abilities to guide you into the release of painful and limiting restrictions.
MOVEMENT TRAINING
Much discomfort and injury is caused by improper standing, sitting or moving. Sherri can teach you to do these things correctly. You can then avoid pain and feel more energetic. This is especially so after Myofascial Release. Then, the body is more fluid, and more easily able to master new behavior.
GIFT CERTIFICATE
A gift of massage by Sherri, truly expresses your appreciation for another. Sherri will send you, or the recipient, a lovely gift certificate. Arrange for this by calling 216.272.8695, or by sending an Email to sherri@sherriannemills.com.
HOME |ABOUT SHERRI MILLS | THE EXPERIENCE OF TOUCH | SERVICES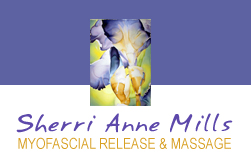 sherri@sherriannemills.com
216.272.8695
31 Bridge Street, No.210
Berea, OH 44017
(near Hopkins Airport)